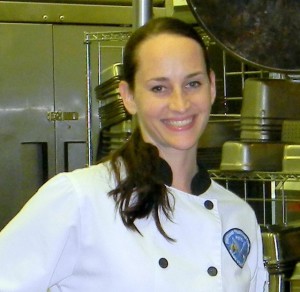 1. What made you decide to come to Culinary School? After having a desk job my entire adult career, I decided to take a leap & go after something I love to do.
2. Why did you choose FCTC for your education? It is close to home, affordable, & I can be done with school within a year.
3. Where are you from? How much time do you have? Just kidding. I have lived in many places, but I was raised in Vegas.
4. What family member, authority figure, or role model influenced you most? My husband is very goal driven & was a huge inspiration for me to go back to school. His drive & support encouraged me to make this decision.
5. What type of cuisine is your favorite? I never say no to Mexican food… but I can't turn down Italian either. And there's Thai, which is hard to resist. I'm a foodie, & I love it all!
6. What do you like most about school? I like the hands on experience & the creativity we're allowed.
7. What are your goals after you graduate? At first, it was a crepe food truck, but there are so many different paths this opens up for me. I am open to changing where I end up, but the end goal is to be happy & enjoy what I do for a living.
8. What is your favorite quote? "Leap & the net will appear." John Burroughs
9. What are your favorite ingredients to use? Garlic & rosemary