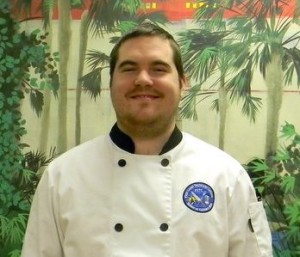 Learn more about future chef and FCTC Culinary Arts student Robert!
1. What made you decide to come to Culinary School? I enjoy cooking & decided that it would be a good experience to educate myself in the Culinary Arts
2. Why did you choose FCTC for your education? The school is close to where I currently live.
3. Where are you from? Key Largo, FL
4. What family member, authority figure, or role model influenced you most? My dad.
5. What type of cuisine is your favorite? Regional cuisine.
6. What do you like most about school? The chefs & their stories about working as a cook.
7. What are your goals after you graduate? Get a job & work my way into a sous chef position.
8. What is your favorite quote? "Experience is the teacher of all things." Julius Caesar
10. What are your favorite ingredients to use? Garlic, salt, lemon juice & zest.