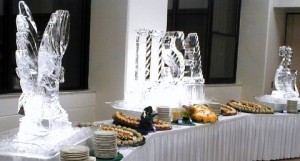 One of the busiest spots at First Coast Technical College is the school's Coastal Conference Center. The 6,650 square foot, 500-guest facility is equipped with a stage area, state-of-the-art sound system and audio-visual capabilities.
Each year FCTC hosts more than 100 events, including tradeshows, fundraisers, sports banquets, food shows, competitions, company training, organized meetings and banquets.
In addition, the conference center plays an essential role in student training at FCTC's School of Culinary Arts. Students assist with arrangements for each function, including room layout, set-up, meal preparation, and service.
For more information, or to schedule an event, please contact Denise Jones at 904-547-3460 or email [email protected]