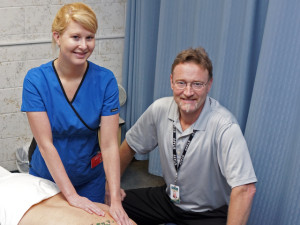 1)      INDEPENDENCE! Be your own boss and set your own hours and rates!
2)      COMPASSION! Make a positive difference in the lives of others every day by helping them recover from injuries, overcome chronic pain, and reduce stress.
3)      EXCITING! Have you ever imagined working in a spa aboard a cruise ship that goes to exciting destinations? The opportunities are endless.
4)      PASSION! Have a career that you can feel passionate about while making a good income.
5)      OPPORTUNITY! An increasing demand for massage therapists means more opportunities for employment. According to the Bureau of Labor Statistics employment opportunities are expected to grow 23% between 2012 and 2022 which is much faster than the average for all occupations.
6)      FLEXIBILITY! You can pursue other passions like parenthood, other arts or further your education. Many times you can choose the number of days you work or the number of massages you wish to perform every month to create a schedule that allows you to live your life.
7)      MEET INTERESTING PEOPLE! Work one on one with world famous athletes and celebrities.
8)      INCOME! Work hard and the sky is the limit!
9)      HEALING! You can be a part of helping someone's physical or mental well being.
10)  ENVIRONMENT! The wonderful smells of clean linens, warm oils, and aromatherapy surround you and your client as beautiful music fills the air. Life doesn't get sweeter then this.
Potential Employment Opportunities:
Massage therapy clinics
Spas
Doctors offices
Resorts
Holistic health clinics
Health clubs
Fitness centers
Nursing homes
Hospitals
Sport medicine facilities
Hotels
Cruise ships
Chiropractors offices