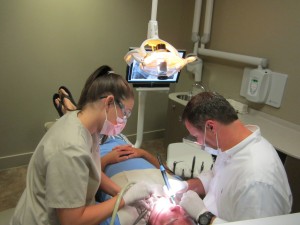 During the summer, thirteen students from First Coast Technical College's Dental Assisting program had a terrific opportunity to enhance their skills during a 450 hour externship.   "FCTC's partnerships enabled externs to be placed in Duval, St. Johns, Flagler and Putnam counties," said Linda Peppe, FCTC Instructor.  "Students practiced diligently prior to going out to expand their functions so they could walk in and know exactly what to do."
FCTC's externship program offers intense training with experienced dental professionals in a structured and nurturing environment.  Externs meet criteria set by private practice, multi-practice, non-profit agencies and FCTC's curriculum for treatment of patients' oral healthcare needs.
In 18 months, FCTC students learn how to prepare patients, practice preventative dentistry, take x-rays, work with dental materials, create temporary crowns, and more.
Applications are accepted for classes scheduled to begin in August with financial aid for qualifying students.  For info, call 547-3471, go to www.fctc.edu or email