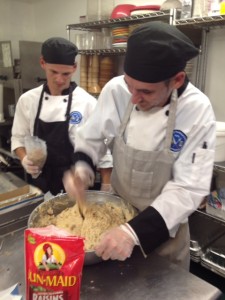 Fresh Starts in Culinary Arts is a program developed by First Coast Technical College in cooperation with St. Augustine's St. Francis House, a temporary home for members of the City's hungry and homeless population. This four week program which began in August of 2013 is designed to provide residents of the St. Francis House with relevant training and certifications that will make them immediately employable in foodservice, the third fastest growing occupation in Florida. Enrolled students train in St. Francis House's kitchen, through a mix of hands-on and classroom instruction, provided by FCTC Chef Instructor Ted Kowalski.
Each day, Fresh Starts students prepare and serve a gourmet lunch in St. Francis's dining room. Students incorporate fresh herbs and vegetables picked from a local garden planted and nurtured under the guidance of FCTC's Agri-Science program.
WJXT Channel 47 in Jacksonville, FL featured the program on January 1, 2016. Click here to watch the reporting.