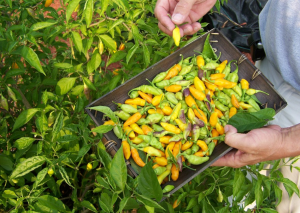 Datil peppers are a local favorite and First Coast Technical College's AgriScience program germinates thousands of heirloom seeds, cultivates the plants and harvests the peppers as part of their curriculum.
This year's plants have produced a bumper crop and FCTC is selling the harvested peppers to the public with proceeds returning to the horticulture program.  Fresh, harvested peppers sell for $10 per pound, direct from the campus shade garden, behind Bldg. F, 2980 Collins Avenue.
To place your datil order, email [email protected] or call 706-318-0946.
While on campus, enjoy lunch in Walter's Reef Café, when school is in session.  Reservations 547-3455 or for a daily menu go to www.fctc.edu.  Aspiring student chefs create new recipes daily and perhaps you will spot a delicious datil dish on the menu?
* Note* In July, the FCTC garden will harvest and sell fresh zipper peas, rattlesnake green beans, yellow crook-neck and zucchini squash, watermelons, and cantaloupe. Check www.fctc.edu frequently for availability and pricing.