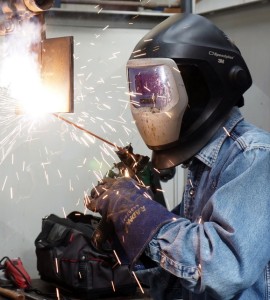 EXCITING! The opportunities are endless. And let's not even begin to talk about those interesting tools you get to use in your craft!
PASSION! Have a career that you can feel passionate about while making a good income.
INDEPENDENCE! Be your own boss and set your own hours and rates!
PRIDE! If you like to take pride in your work and be respected for your skills then this is the perfect career for you. You literally bring metals to life in one form or another.
TRAVEL! If you like to constantly travel then this is the career for you. Typically, those welders that travel will also earn the most. Live the life that so many simply dream of!
OPPORTUNITY! With welding being a part of just about everything you touch or see every day it is clear that the possibilities are endless.
DIVERSITY! A career that offers a large choice of industries to work in-from airplanes to ships to offshore oil rigs!
INTERESTING ! Ever thought of building race cars? This is just one of the unique jobs you may never have even thought of.
DEMAND! According to the Bureau of Labor Statistics employment of welders, cutters, solderers, and brazers is projected to grow 6 percent from 2012 to 2022. Green collar jobs in the energy industry are also on the rise. As long as there is an industry that is thriving a welder can always have a job!
INCOME! Work hard and the sky is the limit! A highly skilled welder could earn a six figure income matching that of a doctor or lawyer.