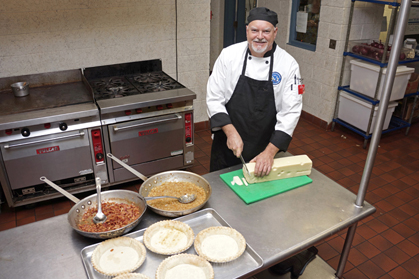 Career Cluster:
Hospitality and Tourism
Exit Requirements:
The Test of Adult Basic Education (TABE) is not required for this program.
Enrollment Open To:
Adult students who are currently employed in the Hospitality or Food Service Industry
Program Start Dates:
Open entry
Location:
St. Augustine Main Campus
Program Day/Evening:
Schedule varies according to student's work schedule & education needs. Apprentice students are required to attend class at the main campus 4 hours every week, during the normal day schedule.
What You'll Learn:
Basic & advanced baking skills
Basic culinary knowledge
Breads, pastries, soups, sauces, salads, entrees, ice carvings, & show pieces
Cold food preparation (fundamental & intermediate)
Cooking methods (fundamental & intermediate)
Food costing, production, & purchasing
Knife skills
Preparation for American Culinary Federation (ACF) industry certifications
Nutrition, Purchasing, Sanitation, & Supervision
Techniques of service
Program Hours:
4,000 hours over 2-3 years at 4 hours per week
Program Estimated Cost:
$275 for a three year membership to the American Culinary Federation
No costs to the sponsoring house
Employment Opportunities:
Baker
Catering companies
Corporate kitchen facilities
Country clubs
Cruise ships
Food sales
Front & back house manager
Hospitality supervisor
Hospitals
Hotels and resorts
Local attractions
Pastry chef
Personal chef
Prep cook
Purchasing manager
Restaurants
Self employed
Service manager
Sous chef (supervising chef)
Industry Certifications:
Cooking Professionals:
Certified Culinarian – CC
Certified Sous Chef – CSC
Certified Chef de Cuisine – CCC
Certified Executive Chef – CEC
Certified Master Chef – CMC
Personal Cooking Professionals:
Personal Certified Chef – PCC
Personal Certified Executive Chef – PCEC
Baking & Pastry Professionals:
Certified Pastry Culinarian – CPC
Certified Working Pastry Chef – CWPC
Certified Executive Pastry Chef – CEPC
Certified Master Pastry Chef – CMPC
Culinary Administrators:
Certified Culinary Administrator – CCA
Culinary Educators:
Certified Secondary Culinary Educator – CSCE
Certified Culinary Educator – CCE
Starting Salaries:
Vary, ranging from $23,660 to $49,320
*Based on the Bureau of Labor Statistics, Florida
Instructor or Department Contact Information:
Name: Chef Phil Brown, CSC – Apprentice Coordinator
Email: [email protected]
Phone: 904-547-3462