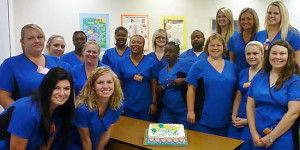 Each May, First Coast Technical College recognizes practical nursing students as part of National Nurses Week.
"The nursing profession embraces dedicated people with varied strengths and passions, so FCTC honors nursing students for their chosen career path," said Patricia Rench, FCTC Health Careers Coordinator.
From hospital bedsides and long-term care facilities, physician's private practice, to the halls of research institutions, FCTC's health career programs foster high standards to meet the expanding employment needs in our community. FCTC partners with Putnam Community Medical Center and Palatka Health Care Center for students to conduct on-site, clinical training.
FCTC is accepting applications for nursing classes with financial aid for qualifying students.  Applications available at www.fctc.edu, click Health Careers, call 386-326-9000 or email [email protected]
Attached photo, l-r:  Practical Nursing students in FCTC's Putnam County program celebrate Nurses Week.
Front, l-r:  Bridgett Nelson and Heather Harris.
Center, l-r:  Brandi Byers, Erica Hudson, Melissa Calender, Lynn Strong, Tia Griswell, Shelley Musgrove, and Jennifer Kelly.
Back row, l-r:  Lauren Adduci, Andrea Campbell, Marshell Williams, Melissa Dear, Troy Henry, Amber Burgess, Kathryn Krebs, and Lynn Proulx.