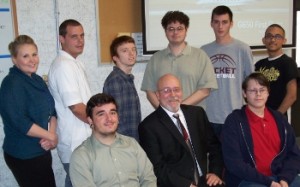 Kenneth Roberts, Information Security Officer for General Dynamics Aerospace Group, recently facilitated a discussion with First Coast Technical College's Digital Design students around the value of education and expanding options available for ones future.
"Students participated in a presentation around today's cyber security threats and actively asked questions concerning Mr. Roberts' career and careers in information technology fields," said Jessica Wimmer, FCTC instructor.  Roberts is based out the Gulfstream Aerospace site in Savannah, GA.
FCTC's Digital Design program provides the processes, tools, and techniques to begin a career as a professional designer using Adobe and Apple focusing on graphics, printing, communications, video, and mobile devices.
FCTC is accepting enrollment for Digital Design classes with financial aid for qualifying students.  For info, please call 904-547-3282 or email [email protected]
Attached photo:  FCTC Digital Design class at recent lecture by General Dynamics Aerospace Group.  Seated, l-r:  Andre Bennett, Kenneth Roberts and Cody Hedquist.
Standing, l-r:  Jessica Wimmer, Cullen Acosta, Chris King, Daniel Skobic, Alex Attebury, and Eric Cedeno.