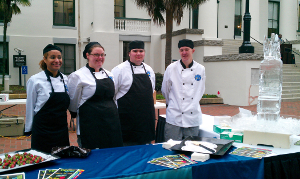 In recognition of Career and Technical Education (CTE) Month, First Coast Technical College students traveled to the state Capitol on Valentine's Day to showcase programs and the importance CTE programs have in our community.  The event gave FCTC students the opportunity to show what they have learned and how they are preparing for workforce success.
FCTC's Massage Therapy students performed chair massages as Culinary Arts served "fresh from Florida" chocolate-dipped strawberries.  A customized heart ice-art sculpture was created and displayed specifically for this event.
CTE programs provide students through hands-on experiences the skills and knowledge needed to perform in high-skill, high wage jobs.
"FCTC's mission is to provide career, technical, and adult education to meet the changing needs of students, businesses, and the workforce," said Sandra Raburn, FCTC President.  "Our students learn the skills that employers seek when making hiring decisions."
For info, go to www.fctc.edu , call 904-547-3282 or email [email protected]
Attached:  Rayana Harper, Sara Fife, Brandon Hughes and Brandon Secor represented FCTC Culinary Arts.