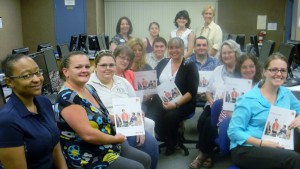 First Coast Technical College's students recently participated in a Personal Money Management workshop presented by Danielle Matthews from Wells Fargo to help identify personal and career goals.
Jodie Johnson, FCTC Instructor, coordinated the inter-active session for Administrative Office and Medical Administrative Specialist students to meet competencies as outlined by the Florida Department of Education curriculum frameworks.
"Student objectives were to demonstrate money-management concepts, procedures and strategies," said Johnson.  "Ms. Matthews shared a "Budget Toolkit" that helped students with an overview of personal and family finances, management of resources including income, saving and investing, spending and credit, the role of financial institutions and the consumer, consumer information and taxation and financial planning."
Enrollment accepted for Administrative Assistant and Medical Administrative Specialist classes with financial aid for qualifying students. For info, email [email protected] or call 547-3282.  For gainful employment disclosures, please visit the consumer information page at www.fctc.edu
Attached:  FCTC students participated in Money Management workshop included,  l-r:  Mary Brown, Carla Brock, Amanda Beck, Kat Mackie, Cynthia Letcher, Keano Wawzynski,  Danielle Matthews, Stephanie Baldwin, Jodie Johnson, Mary Wiles, Andre Bennett, Irene Ferro, Louise Austin, Rebecca Perry, and Caty Strohminger.