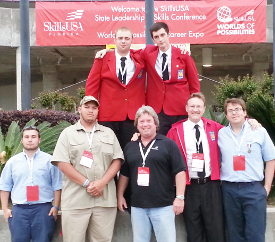 Daimin Figueroa-Batts and Austin Eger, high school students who take their elective courses at First Coast Technical College, returned home recently with medals awarded during the SkillsUSA Florida State competitions held in Pensacola.
Batts, in the 11th grade at St. Augustine High School, was awarded a gold medal in Cabinetmaking.  This is the third consecutive year that a student from FCTC has achieved gold medal status at the state level.
Eger, a sophomore at St. Johns Technical High School, earned a silver medal competing in Power Equipment Technology.
Five FCTC students competed demonstrating their occupational skills:
David Kubiak-Automotive Service Technology
Joshua Bowen and Austin Eger – Power Equipment Technology
Daimin Figueroa-Batts – Cabinetmaking
Alex Attebury – Advertising Design
FCTC offers career programs at four St. Augustine and Palatka campus locations.  For info 904-547-3282, www.fctc.edu or [email protected]
Attached, front, l-r:  Austin Eger, Daimin Figueroa-Batts, Bill Clark, Tim Davidson, and David Kubiak.
Back:  Joshua Bowen and Alex Attebury.