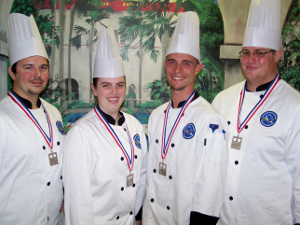 After months of precision knife skills, exact measuring, detailed plate presentations, and constructive critique, First Coast Technical College's student competition team was recently awarded a silver medal at WinterFest 2013.
Team FCTC was selected in October and has practiced daily to hone their skills.  "It's been a rough few months," said Quintin Pearson, Team Captain.  "Between school, working in the industry and daily team practice, family time was limited.  Our hard work came to fruition when the announcement was made."
Chef Scott Bennett, FCTC Culinary Supervisor was student team coach.  "Teams compete against a set of standards, consisting of a skills component and a cooking session culminating in a 4-course meal with accompaniments," said Bennett.  "Each entry is an original and judged on presentation, flavor, marketability, and originality by certified American Culinary Federation judges."
Attached photo:  Team FCTC earned a WinterFest Silver Medal.  L-R:  Stephen Osgood, Maggie Leach, Quintin Pearson, and Joseph Arvin.   Not available for photo was Jedediah Pearson, alternate.