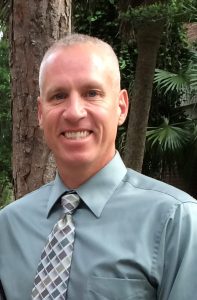 First Coast Technical College (FCTC) is proud to announce that Dan Talbert, EMS/Fire Program Director and Career Specialist is the recipient of the 2022 National Emergency Medical Services Educator of the Year Award. The NAEMT/Jones & Bartlett Learning Public Safety Group award will be presented in October during NAEMT's General Membership Meeting and Opening Ceremony of EMS World Expo in Orlando, Florida.
Formed in 1975 and more than 75,000 members strong, the National Association of Emergency Medical Technicians (NAEMT) is the only national association representing the professional interests of all emergency and mobile healthcare practitioners. NAEMT members work in all sectors of EMS, including government agencies, fire departments, hospital-based ambulance services, private companies, industrial and special operations settings and in the military.
Dan has been the Director of EMS & Fire Programs at FCTC's Public Safety Campus since 2019 after starting as a guest lecturer in 2009 and as an instructor in 2014. With two master's degrees from Liberty University in Applied Psychology and Health Sciences, he demonstrates a true passion for educating the next generation of EMTs and Paramedics. Sharing years of professional experience in the prehospital setting, he is able to help students perform at a higher level and adapts his training approach for each class.
Dan has implemented many new programs at FCTC with an emphasis on use of simulations which have been successful and noted by his students. He engages students by immersing them in realistic scenarios and challenging situations to prepare them for their future careers. He places an emphasis on professionalism and respect during interactions with patients, fellow classmates, and instructors. Talbert fosters a culture where students feel like they are part of the future in EMS. He is a mentor to students and conducts mock interviews and practices with students to develop their "people" skills.
"This well-deserved recognition benefits St. Johns County and the surrounding area as our EMT, Paramedic and Firefighter graduates move on to serve our communities," said Superintendent Tim Forson. "It's educators like Dan Talbert that make St. Johns County shine."
September 26, 2022