Are you interested in being a Friend of FCTC?
There are a number of ways you, your business, or your organization can support our students and programs.
A financial contribution of any size assists FCTC Education Foundation ensure that financial need is never a barrier to student success.
Serve on a committee and use your knowledge and experience to guide our instructors in providing state of the art education and preparing students for today's workforce.
Connect with a student who is preparing to enter your industry and provide valuable support as they pursue their dreams.
Check with us for campus visits to enjoy lunch at Walter's Reef Café , get pampered at our Cosmetology Salon or purchase garden fresh produce from our greenhouse. Your experience with our students provides them with career training and you receive great service at a reasonable costs!
For more information about how to support FCTC, call (904) 547-3386 or email us.
Volunteer of the Year 2020-21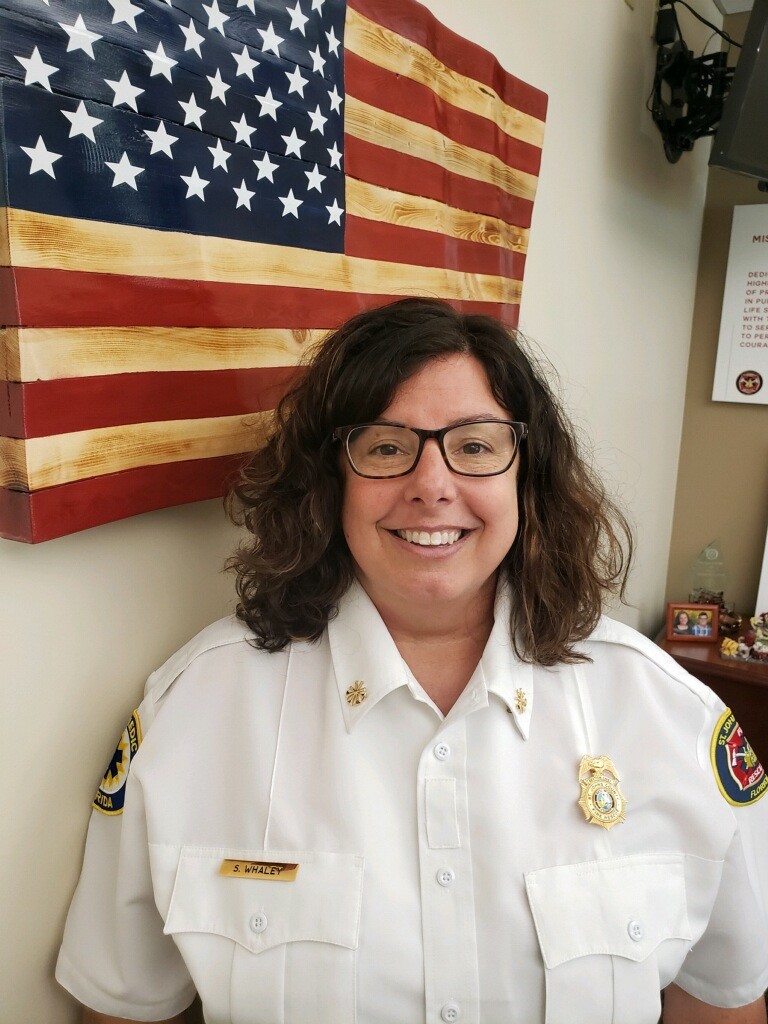 First Coast Technical College is proud to announce St. Johns County Fire Rescue Operations Chief Stephanie Whaley is out 2020-21 Outstanding School Volunteer. Stephanie is an alumnus of FCTC from the early 1990's Emergency Medical Technician and Paramedic programs then the Fire Academy in 1997. She has served our county for more than 25 years rising from Crew Chief and Lieutenant to Training Captain, Deputy Chief of Emergency Medical Services and to the first female Operations Chief. Throughout that time, Stephanie's contribution to our community has been exceptional. As a career public servant, she is adored for her unmatched enthusiasm yet firm toughness and for a determination to see FCTC and our students succeed.
Whether as a guest lecturer or a champion for students, Stephanie has contributed countless hours to FCTC over the past 25 years. Her expertise has provided guidance to each and every person she has touched. As a long-time member of the Public Safety Steering Committee, Stephanie has been an advocate for our programs from identifying state-of the art training equipment and proper supplies to assure our students are prepared when they assume their role in the community.
Volunteer of the Year 2019-20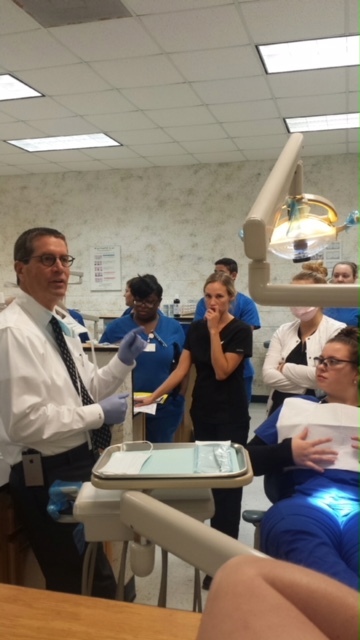 With gratitude, Dr. Gregory Oxford, DDS has been selected FCTC's 2019-2020 Outstanding School Volunteer for his untiring commitment to our dental students and their future careers. From visiting our campus as a guest lecturer and interview prepping to serving on the Dental Steering Committee and accepting student externs, you have impacted so many of our current students and alumni. We appreciate your support and guidance. 
Volunteer of the Year 2018-19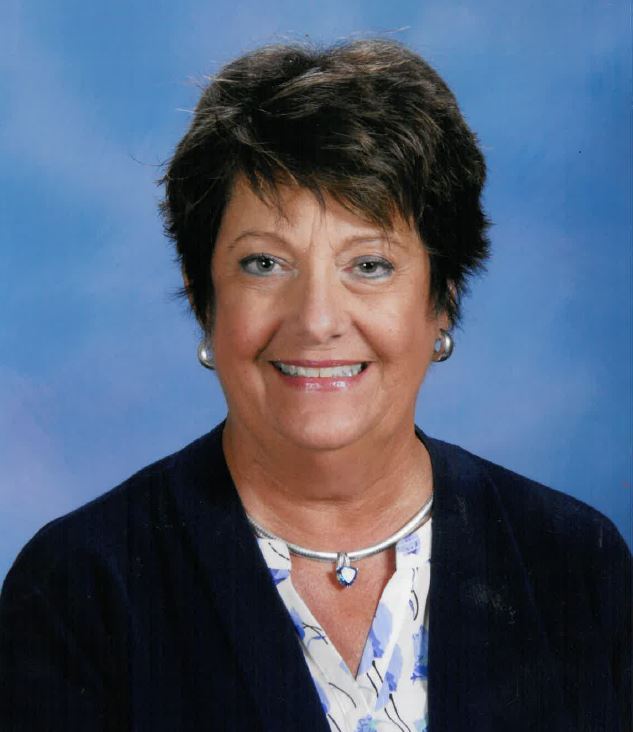 We are pleased to announce that Nancy Dering-Mock has been awarded FCTC's Outstanding School Volunteer Award. This award is presently annually to school volunteers who have shown outstanding dedication and commitment to quality education in Florida. Nancy serves as the Chair of the FCTC Education Foundation, a 501(c)3 that supports FCTC's students in their journey for a technical career to improve their lives and our community. Thank you Nancy.
Volunteer of the Year 2017-18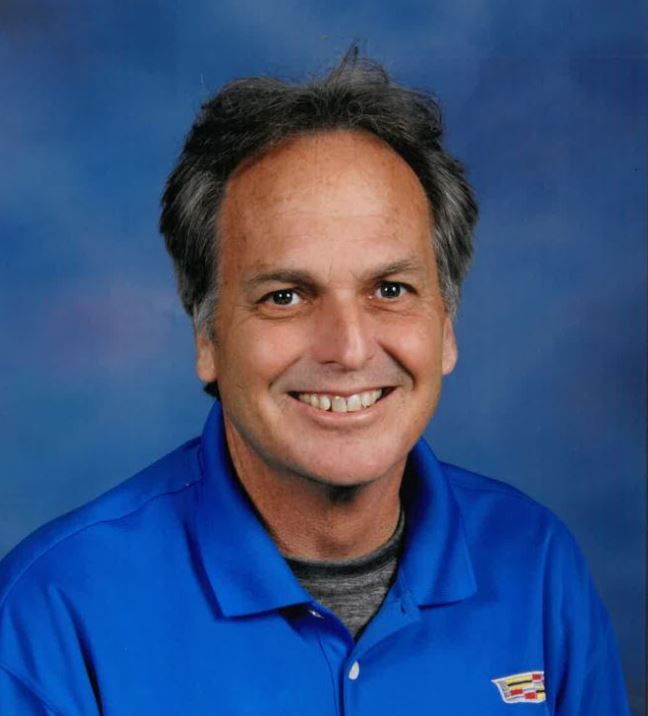 Congratulations and special thanks to Frank Harrington, Service Manager at Fields Cadillac of St. Augustine. Frank serves on our Automotive Technology Steering Committee and has hired many FCTC graduates. His mentorship and training means the world to our students and their families. Fields Cadillac also contributes a monthly radio segment to FCTC on WSOS 103.9 FM – WSOS 1170 AM for the community to learn about the life changing career opportunities right here in St. Johns County.
Volunteer of the Year 2016-17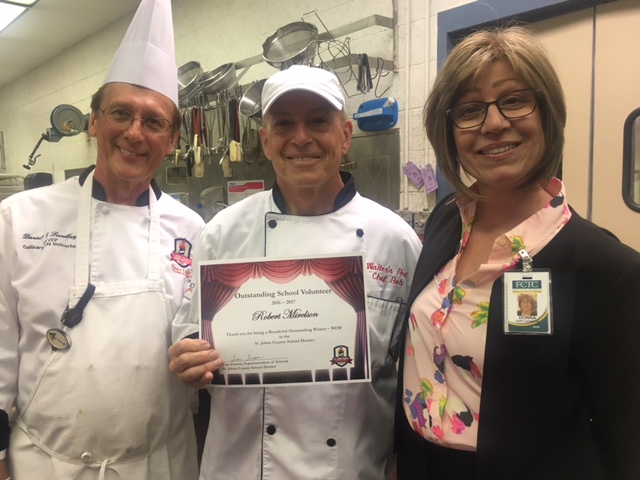 Pictured left to right; Chef Dan Lundberg, Chef Rob Mirelson and Assistant Principal Donna Gary-Donovan
Congratulations Chef Rob!