FCTC Public Safety Campus
Tuition and lab $4,543.00 plus books, uniforms and fees
No assessments needed
High School Diploma or GED required
Experience the thrill of treating critically injured patients in a level one trauma center
Provide vital emergency care while working side by side with licensed paramedics, firefighters, nurses, and doctors
Lead a team of experienced paramedics while riding on advanced life support rescue units
CAREER FOCUS
Prepared for state and national certification, immediate employment and further education
Student & Alumni Spotlight
Recent Employers of Graduates include: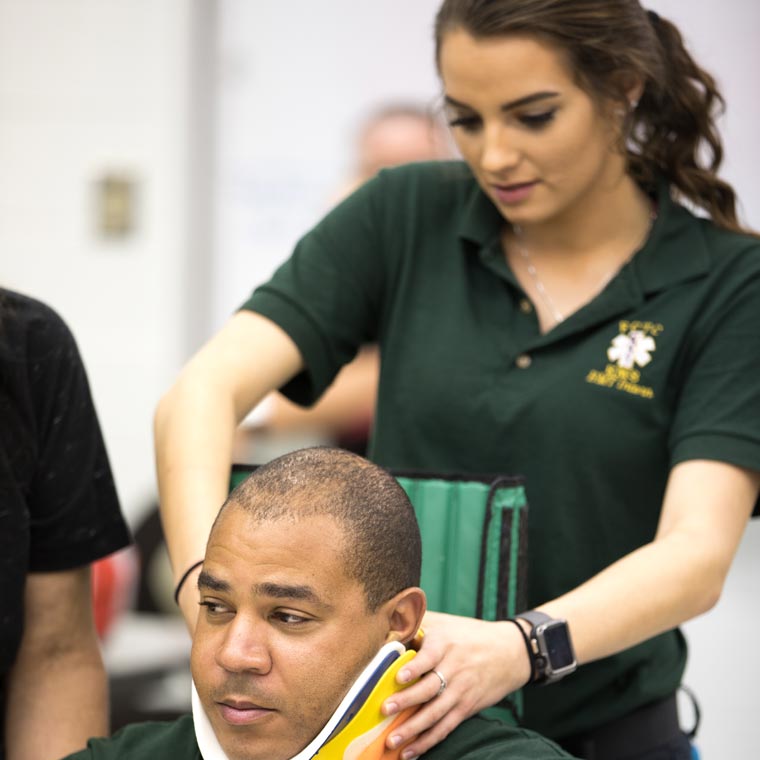 Program Overview:
Administer approved medications
Apply an external pacemaker
Assess a patient's condition and select appropriate treatment
EMS communication systems
HIV/AIDS education
IV therapy
Perform advanced airway techniques such as intubation & cricothyrotomy
Read & interpret standard and twelve lead EKGs
Shocking a patient to restore a normal heart rhythm
Treat critically ill or injured patients
| OCP | Course Number | Course Title | Course Length |
| --- | --- | --- | --- |
| A | EMS0210 | Paramedic I | 248 |
| A | EMS0211 | Paramedic II | 426 |
| A | EMS0212 | Paramedic III | 426 |
Accreditation
First Coast Technical College's Paramedic Program is accredited by the Commission on Accreditation of Allied Health Education Programs (caahep.org) upon the recommendation of the Committee on Accreditation of Educational Programs for the Emergency Medical Services Professions (CoAEMSP).
The CoAEMSP Quality Improvement (QI) subcommittee has reviewed the 2021 Annual Report and below you will find the Outcomes submitted by the Program in its 2021 Annual Report.
NREMT/State Written Exam: 81
Retention: 87.5
Positive (Job) Placement rate: 100
During the August 2021 CoAEMSP Board of Directors meeting, the Board voted to waive minimum outcomes performance thresholds for the 2020 and 2021 Annual Report as they acknowledged the pandemic's disruptive effect on all Paramedic programs. Therefore, the inability to meet any of the three identified outcomes on the 2020 or 2021 Annual Report will not be a consideration when evaluating a program's performance.
As a reminder the minimum outcome performance threshold established by the CoAEMSP Board of Directors is 70% for National Registry or State Written Exam, Retention, and Positive Placement. When evaluating a program's outcomes performance, three years of consecutive data (2022, 2023, and 2024) will be considered.
 CoAEMSP Policy IV.D.1. & 2. Maintaining Accreditation – Annual Report states
"All programs (accredited and LoR) must publish their latest annual outcomes results for the National Registry or State Written Exam, Retention, and Positive Job Placement on the Paramedic program's homepage of their website."
"At all times, the published results must be consistent with and verifiable by the latest Annual Report of the program.
For the full policy, please see the CoAEMSP Policy Manual at https://coaemsp.org/policies-procedures.
Commission on Accreditation of Allied Health Education Programs
25400 US Highway 19 N., Suite 158, Clearwater, FL 33763
(727) 210-2350  www.caahep.org
To contact CoAEMSP: 8301 Lakeview Parkway, Suite 111-312, Rowlett, TX 75088 (214) 703-8445 FAX (214) 703-8992 www.coaempsp.org.
Florida Paramedic certification
NREMT Paramedic certification
Ambulance service
Fire stations
Hospitals
Paramedic – emergency room
Paramedic – Private ambulance
Physician offices
Discover how First Coast Technical College prepares students for the Health Sciences industry.
Based on the 2021 Commission on Accreditation of Allied Health Education Programs Annual Report
Based upon the 2022 Council on Occupational Education Annual Report for 2020-2021
Name:  Dan Talbert, Career Specialist for Public Safety
Email:   [email protected]
Phone:  (904) 547-3542
Are you ready to jumpstart your career?