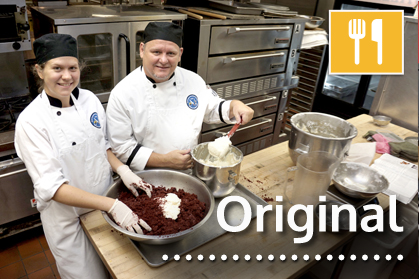 Career Cluster:
Hospitality and Tourism
Exit Requirements:
Read: 09 Math: 09 Lang: 09
Enrollment Open To:
Adult and High School Students
Program Start Dates:
10/18/2016; 1/17/2017; 3/30/2017
Location:
St. Augustine Campus
Program Day/Evening:
Day 8:00 am - 3:00 pm, Monday-Friday
What You'll Learn:
Basic & advanced baking skills
Basic culinary knowledge
Breads, pastries, soups, sauces, salads, entrees, ice carvings, & show pieces
Cold food preparation (fundamental & intermediate)
Cooking methods (fundamental & intermediate)
Food costing, production, & purchasing
Knife skills
Preparation for American Culinary Federation (ACF) industry certifications
Nutrition, Purchasing, Sanitation, & Supervision
Techniques of service
Program Hours:
1200

Full time enrollment = 12 months (actual months may change depending on scheduled hours in class)
Program Estimated Cost:
$5,617 (Based on Florida Residency Requirements)
OCP:
title one
| OCP | Course Number | Course Title | Course Length |
| --- | --- | --- | --- |
| A | HMV0100 | Food Preparation | 300 |
| B | HMV0170 | Cook-Restaurant | 300 |
| C | HMV0171 | Chef/Head Cook | 300 |
| D | HMV0126 | Food Service Management | 300 |
Employment Opportunities:
Baker
Catering companies
Corporate kitchen facilities
Country clubs
Cruise ships
Food sales
Front & back house manager
Hospitality supervisor
Hospitals
Hotels and resorts
Local attractions
Pastry chef
Personal chef
Prep cook
Purchasing manager
Restaurants
Self employed
Service manager
Sous chef (supervising chef)
Industry Certifications:
Upon successful completion of the program, students will earn a Certificate of Completion in the Commercial Foods & Culinary Arts Program. As a graduate of FCTC's School of Culinary Arts, passing both the written (pass with at least a70%), practical (pass with at least a 75%) exams and meeting all the ACF requirements, you will be eligible to receive your first certification from the American Culinary Federation – a "Certified Culinarian". You can also attain your "Certified Pastry Culinarian" (CPC), with additional testing.
To be certified through the ACFEF, students must also document at least one year of work experience for CC and/or two years of experience for CPC (within the last ten years). If you intend to pursue certification with the ACF, we suggest obtaining a job in the Culinary Industry as soon as possible because work experience in the industry is key to attaining additional certification levels. Below are the various levels of certification offered by the ACF. We invite you to explore the ACF website at www.acfchefs.org .
Cooking Professionals
Baking and Pastry Professionals
Starting Salaries:
Vary, ranging from $23,660 to $49,320
*Based on the Bureau of Labor Statistics, Florida
Instructor or Department Contact Information:
Name: Chef Phil Brown, CSC – Apprentice Coordinator
Email: [email protected]
Phone: 904-547-3462
Name: Chef Sherry Gaynor, CEPC, CCE – Chef Instructor, St. Johns Technical High School
Email: [email protected]
Phone: 904-547-3466
Name: Denise Jones – Event Planning
Email: [email protected]
Phone: 904-547-3455
For gainful employment information please click here.
Name: Chef Daniel Lundberg, CCC, CCE – Cook Head Chef / Quantity Foods & A la Carte Instructor, Course #HMV0171; Bake Shop & Pastry Arts Instructor, Course #HMV0170
Email: [email protected]
Phone: 904-547-3465
Name: Chef Anthony Lowman, CCC, CCE, ACE – Food Prep / Garde Manger Instructor, Course #HMV0100, Human Resources/Supervision Course #HMV0126
Email: [email protected]
Phone: 904-547-3468