FCTC is ready to prepare you for the ever-changing workforce.
Here is some information to help you explore your options.
More
Thank you for choosing FCTC to assist you in meeting your educational needs.
We hope you find this information helpful in your success.
More
Stay up to date on all FCTC events.
Walter's Reef Café will close March 19, 2018 and reopen Tuesday, April 3rd
SPRING BREAK week of March 26th
Tri-County Skills & Ability, Thursday, April 5th at 9 AM. Cost $75
Career Navigator Lunch & Learn 1st Thursday of month 11:40-12:10 Bldg D
Civilian Firearms Safety, Saturday April 14th at 8 AM
CPR Thursday, June 14th at 9 AM – 1 PM
Graduation, Friday, May 25, 2018 at 4 PM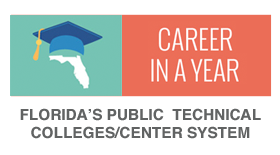 We get you trained, here are resources to get you the job.
I AM FCTC
Congratulations to FCTC's Teacher of the Year Phil Brown and Rookie Teacher of the Year Paulo Gomes. Both were selected by their peers and recently honored by the St. Johns County School Board. Accepting his award is Chef Phil, third from the right, accompanied by Principal Chris Force and representing Paulo, is Chris Force, second … Read More ››
PROGRAM SPOTLIGHT
Miranda Newsome, a St. Augustine High School student and President of the Permaculture Club designed a great presentation on the educational benefits of FCTC's Agricultural Science program. Check out the wonderful photos and story by clicking on Agricultural Science