Experience the excitement of being on a professional medical team
Perform vital procedures like drawing blood, giving injections, and assisting with minor office surgery
Deliver essential care to patients by providing medical, surgical, and preventive healthcare
CAREER FOCUS
Prepared for state and national certifications, immediate employment and further education
Student & Alumni Spotlight
Community Partners and Recent Employers of Graduates:
FM Medical Urgent Care
James Connor, PA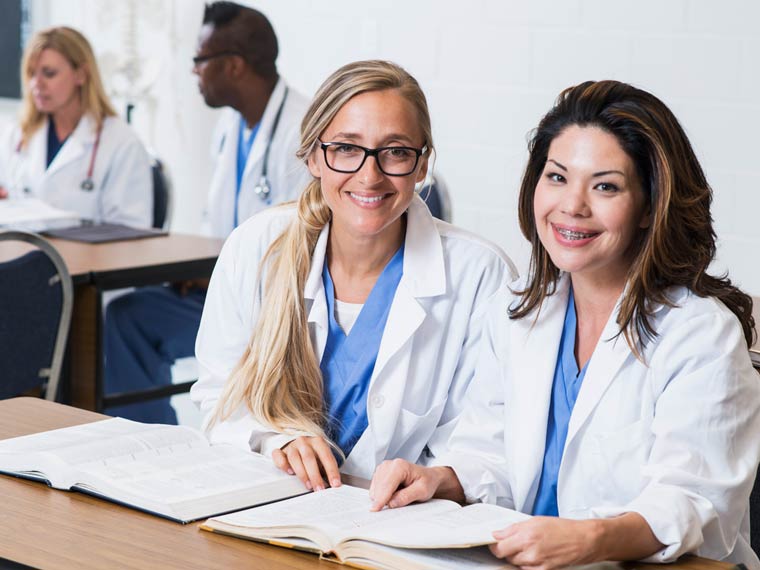 Program Overview:
EKG & phlebotomy
Front office duties: scheduling, billing, insurance, transcription
HIV/AIDS education
Lab procedures
Medical terminology
Monitoring/preparing patients
Respond to medical emergencies
Vital signs
X-Ray procedures
Unpaid Externship
OCP
Course Number
Course Title
Course Length Hours
A
HSC0003
Basic Healthcare Worker
90 hours
B
MEA0002
Introduction to Medical Assisting
250 hours
MEA0501
Medical Office Procedures
 75 hours
C
MEA0521
Phlebotomist, MA
75 hours
D
MEA0543
EKG Aide, MA
75 hours
E
MEA0581
Clinical Assisting
230 hours
MEA0530
Pharmacology for Medical Assisting
90 hours
MEA0573
Laboratory Procedures
125 hours
MEA0506
Administrative Office Procedures
90 hours
MEA0942
Practicum Experience
200 Hours
Certified Clinical Medical Assistant Examination (CCMA)
Coding and billing specialist
Doctors' office
EKG aide
Hospitals
Medical office receptionist
Medical specialty group practices
Outpatient facilities
Phlebotomist
Walk-in clinics
Discover how First Coast Technical College prepares students for the Health Sciences industry.
Based upon the 2022 Council on Occupational Education Annual Report CPL data is pulled from 2020 – 2021.
Name: Shauna Lewis
Email: [email protected]
Phone: (904) 547-3487 
Fax: (904) 547-3614
Name: Donna Soncrant, Career Program Specialist
Email: [email protected]
Phone:  (904) 547-3470
Fax: (904) 547-3614
Are you ready to jumpstart your career?