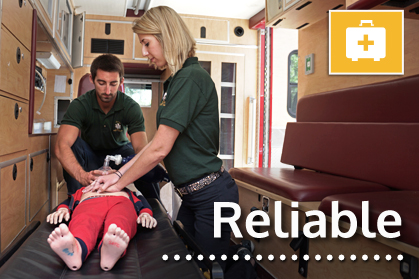 Career Cluster:
Health Science
Testing Requirements:
The Test of Adult Basic Education (TABE) is not required for this program.
Enrollment Open To:
Adult and High School Students
Program Start Dates:
1/22/14 * 1/28/14 (Putnam) * 5/27/14 *6/9/14 (For full application deadlines and schedule, visit the downloads section of this page.)
Location:
St. Augustine Main Campus / Palatka Campus
Program Day/Evening:
Day & Evening
What You'll Learn:
Assist patient with certain medications
Basic anatomy & physiology
Emergency childbirth
Gain access & remove patients from crashes
Perform critical life savings interventions for diabetics & patients having an allergic reaction
Perform physical exams
Treat and safely transport patients with a wide variety of broken bones or other trauma
Treat heart attack patients or near drowning situation
Treat seizures or other medical emergencies
Program Hours:
250

full time enrollment = 10 weeks, actual weeks may change depending on scheduled hours in class
Program Estimated Cost:
$1,831
OCP:
| OCP | Course Number | Course Title | Course Length |
| --- | --- | --- | --- |
| A | HSC0003 | Basic Healthcare Worker | 90 |
| B | EMS0159 | Emergency Medical Technician | 160 |
Employment Opportunities:
Ambulance service
EMT – hospital emergency room
EMT – private ambulance
Fire stations
Hospitals
Patient care technician – health care facilities
Physicians' offices
Industry Certifications:
Coming Soon!
Starting Salaries:
$32,650
*Based on the Bureau of Labor Statistics, Florida
Downloads:
Putnam County EMT Course Information
EMT Program costs & book list: EMT Costs Mar 2014
Short Term Public Safety Courses
FCTC's Public Safety Campus offers periodic training courses for Firefighters, EMTs, Paramedics and other professionals. Schedules for each course are listed below.
To register contact our Registration Department at (904) 547-3381 or (904) 547-3383.
Instructor or Department Contact Information:
Name:  Frank McElroy, Coordinator, North Campus
Email:   frank.mcelroy@fctc.edu Phone:  904-547-3540
Name:  Angie Lord, Office Support Assistant, North Campus
Email:   angie.lord@fctc.edu Phone:  904-547-3542