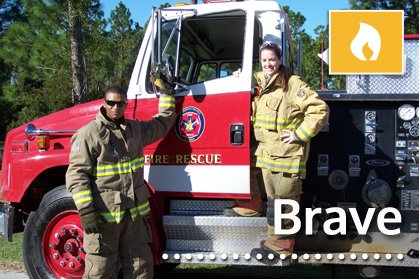 Career Cluster:
Law, Public Safety and Security
Exit Requirements:
The Test of Adult Basic Education (TABE) is not required for this program.
Enrollment Open To:
Adult Students
Program Start Dates:
Firefighter Application Packet
Program of Study for Fire Fighter 1& 2
Program costs & book list: Fire Fighter 1& 2
Entrance Physical Ability Assessment
Short Term Public Safety Courses
FCTC's Public Safety Campus offers periodic training courses for Firefighters, EMTs, Paramedics and other professionals. Schedules for each course are listed below.
These courses are offered periodically based on student need and number of students registered for the course. More information is available at the Public Safety Campus in St. Augustine (3640 Gaines Road) where the classes take place.
To register contact our Registration Department at (904) 547-3381 or (904) 547-3383
No Short Term courses scheduled at this time.
Location:
Public Safety Campus, St. Augustine
Program Day/Evening:
Day & Evening
What You'll Learn:
Basic fire department organization & history
Building construction & structural awareness
Fighting wild fires
Fire behavior and theories of extinguishment
Fire department safety practices, protective clothing & communications systems
Forcing entry into buildings & vehicles
Hazardous materials awareness
Knowledge of fire behavior
Proper techniques of using fire streams to extinguish
Use and care of fire hose, nozzles & related equipment
Use of ropes and ladders
Ventilating smoke and heat
Program Hours:
398

full time enrollment = 10 weeks, actual weeks may change depending on scheduled hours in class
Program Estimated Cost:
$3,335 (Based on Florida Residency Requirements)
OCP:
| OCP | Course Number | Course Title | Course Length |
| --- | --- | --- | --- |
| A | FFP0010 | Fire Fighter I | 206 |
| B | FFP0020 | Fire Fighter II | 192 |
Employment Opportunities:
Fire Stations
Firefighter
Forestry department
Industry Certifications:
Florida Firefighter II certification
Pro-Board Firefighter certification
Starting Salaries:
$51,190
*Based on the Bureau of Labor Statistics, Florida
Instructor or Department Contact Information:
Name: Frank McElroy, Coordinator, Public Safety Campus
Email: [email protected]
Phone: 904-547-3540
Name: Ronnette Waycaster, Office Support Assistant, Public Safety Campus
Email: [email protected]
Phone: 904-547-3542
For gainful employment information please click here.