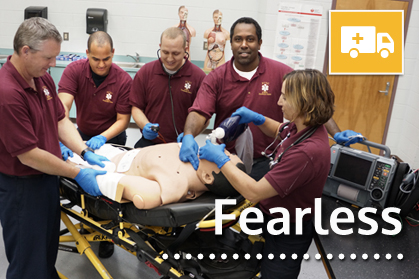 Career Cluster:
Health Science
Exit Requirements:
Reading: 10 Math: 10 Language: 10
Enrollment Open To:
Adult Students (Advanced Placement is not available for this program)
Program Start Dates:
Click here to go to Program Start Dates
Program costs & book list: TBA
Paramedic Program Accreditation Information
Paramedic Program Outcome Results 2015-2017
Short Term Public Safety Courses
FCTC's Public Safety Campus offers periodic training courses for Firefighters, EMTs, Paramedics and other professionals. Some of the courses are EVOC, EMT Refresher, Tri-County Testing, Fire Apparatus Operator/Pump Ops, etc. See the Public Safety Campus Short Term Courses page for more details.
These courses are offered periodically based on student need and number of students registered for the course. More information is available at the North Campus in St. Augustine (3640 Gaines Road) where the classes take place.
To register contact our Registration Department at (904) 547-3542 or email [email protected] for more information.
Location:
Public Safety Campus
What You'll Learn:
Administer approved medications
Apply an external pacemaker
Assess a patient's condition and select appropriate treatment
EMS communication systems
HIV/AIDS education
IV therapy
Perform advanced airway techniques such as intubation & cricothyrotomys
Read & interpret standard and twelve lead EKGs
Shocking a patient to restore a normal heart rhythm
Treat critically ill or injured patients
Program Hours:
1100

full time enrollment = 12 months, actual months may change depending on scheduled hours in class
Program Estimated Cost:
$5,665 (Based on Florida Residency Requirements)
OCP:
| OCP | Course Number | Course Title | Course Length |
| --- | --- | --- | --- |
| B | EMS0219 | Paramedic | 248 |
| B | EMS0220 | Paramedic | 426 |
| B | EMS0221 | Paramedic | 426 |
Employment Opportunities:
Ambulance service
Fire stations
Hospitals
Paramedic – emergency room
Paramedic – Private ambulance
Physician offices
Industry Certifications:
Florida Paramedic certification
NREMT Paramedic certification
Starting Salaries:
$32,650
*Based on the Bureau of Labor Statistics, Florida
Instructor or Department Contact Information:
Name: Frank McElroy , Coordinator, Public Safety Campus
Email: [email protected]
Phone: 904-547-3540
For gainful employment information please click here.