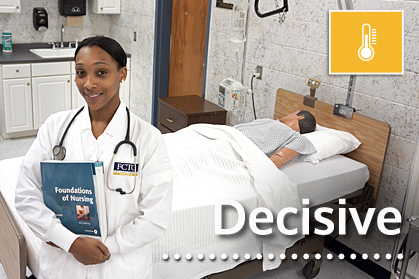 Career Cluster:
Health Science
Exit Requirements:
Test of Adult Basic Education (TABE) Read:11 Math:11 Lang:11
Enrollment Open To:
Program Open to Qualified Applicants (see application for admission requirements) including ATI TEAS Minimum 55% Adjusted Individual Total Score (AITS)
Program Start Dates:
Location:
Students will attend classes/clinicals in any/all of the following counties St. Johns, Putnam, and Clay
Program Day/Evening:
Full-time/day program – Monday through Thursday earliest 7am – latest 4:30pm. Part-time/evening program every Tuesday, Wednesday, Thursday 6-10pm and every other Saturday and Sunday 6:30am-5pm. Both full-time/day and part-time/evening programs require a preceptor rotation. These hours will vary.
What You'll Learn:
Care for medical-surgical, oncology patients
Communication skills
Geriatric care
HIV/AIDS education
Human growth & development
Legal & ethics responsibilities
*FL Board of Nursing Approved
Mental health concepts
Nutrition
Pharmacology & administration of medications
Rehabilitation basics
Unpaid clinical experience
Unpaid preceptor rotation
Program Hours:
1350

Daytime Enrollment = 13 months, actual months may change depending on scheduled hours in class

Evening Enrollment = 18 months, actual months may change depending on scheduled hours in class
Program Estimated Cost:
$7,543 (Based on Florida Residency Requirements)
OCP:
| OCP | Course Number | Course Title | Course Length |
| --- | --- | --- | --- |
| A | PRN0098 | Practical Nursing Foundations 1 | 300 |
| B | PRN0099 | Practical Nursing Foundations 2 | 300 |
| | PRN0290 | Medical Surgical Nursing 1 | 300 |
| | PRN0291 | Medical Surgical Nursing 2 | 300 |
| | PRN0690 | Comprehensive Nursing and Transitional Skills | 150 |
Employment Opportunities:
Doctor offices
Home health
Hospice
Hospitals
Health Department
Nursing Homes
Walk-in clinics
Industry Certifications:
NCLEX-PN Exam
Starting Salaries:
$38,720
*Based on the Bureau of Labor Statistics, Florida
Downloads:
LPN Application: LPN Application
Program costs & book list: LPN Price List
TEAS Prep: www.atitesting.com
AHA Health Care Provider BLS CPR Courses are offered at our Public Safety Campus for dates click HERE. You may register at the PSC and/or the registration department.
Click here to see the Career Cluster Pathway for LPN
Instructor or Department Contact Information: